Julie Harris Theatre at Perry Mansfield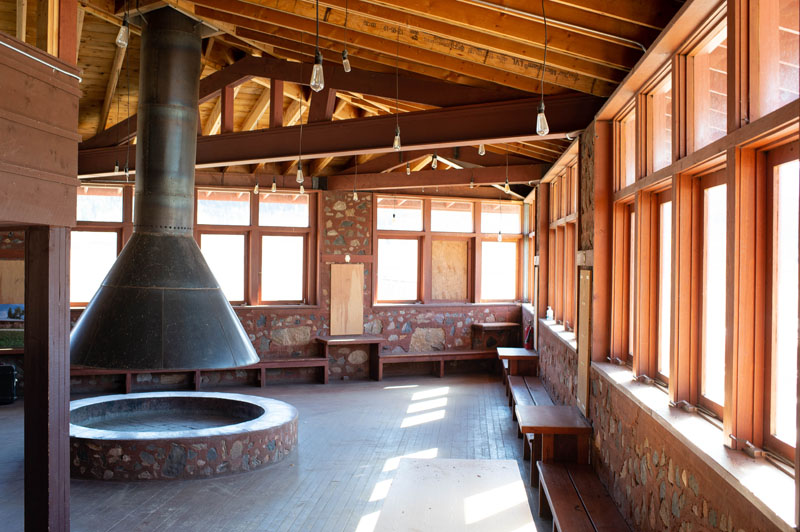 At a Glance
Date Built: 1956
Architect: Willard Sage
Restoration Start Date: 2020
Status Phase 1: Roof Stabilization Complete
Status Phase 2: New Roof/upgrades in progress
The History
The Julie Harris Theatre was designed by Willard Sage, an actor who attended camp at Perry-Mansfield. Sage later became an architect who studied under Frank Lloyd Wright, and his influence can be seen in the design of the Julie Harris Theatre. The six-sided theatre building is approximately 5,600 square feet. It is believed to be the first theater in the U.S. with a stage that could be configured as proscenium, thrust, or in-the-round. This theatre's unique versatility is still a hallmark of the productions which still use varied and innovative set and stage designs to enhance the experience of attending a play in this intimate setting.
Fun Fact
Fun Fact: The Julie Harris Theatre building was named for Julie Harris, who attended the camp as a teenager from 1940 to 1942. Harris was one of the first campers to achieve fame and had her 1945 Broadway debut in the comedy "It's a Gift" when she was only 19. She later played opposite James Dean in the film "East of Eden." Julie Harris was a five-time Tony Award winner, won three Emmys, and a Grammy, and was nominated for an Academy Award. She is the most honored actor in the history of Broadway's Tony Awards.
The Project
Perry-Mansfield Performing Arts School & Camp and Historic Routt County (HRC) have partnered to preserve and restore the historic Julie Harris Theatre on the Perry-Mansfield campus and make it a year-round facility. The low-sloped roof of the Julie Harris Theatre was in danger of collapse after 60+ years of an average of 200" of snow annually. The renovation/rehabilitation of the theatre will be phased and will include structural reinforcement, upgrades to lighting and electrical systems, exit signage, fire alarms, insulated roof system, heating system, plumbing, ADA access, ADA bathrooms, window/door restoration, brick restoration, and general carpentry needs.
This project is made possible by strong community partnerships and generous donors. The theatre's stabilization is partly paid for by a History Colorado State Historical Fund grant, a grant from the Routt County Museum & Heritage Fund, and generous gifts from community members.
Phase 1: The project began in 2021 when steel beams ( some of which are 48' long and 3,00 lbs each) and columns were slipped into the theatre interior to reinforce the roof framing system and stabilize the building. Every effort was made not to damage the existing building fabric.
Phase 2: The roof will be replaced by early 2023, allowing the theatre to be used year-round.